Fellow role-players, here is my update for Session 5c.48 of the "Vortex" telecom space opera campaign, which met via Skype on Sunday, 6 October 2013. We've been using FATE 3e Starblazer Adventures /Mindjammer, Bulldogs, and an online dice roller.
In one future, humanity has started to overcome ecological challenges at the time of open and official First Contact with galactic societies. However, internecine war and the Zarkonian Armada devastate Earth and its colonies. A few million refugees, aided by some aliens, flee into deep space. Will heroes arise among them?
FATE 3e "Vortex: Terra's Pride" (Team 3/5c) telecom Player Characters, as of autumn 2013:
Acting crew of the experimental scout ship Blackbird:
"Capt. Kevin Reese" [Bruce K.]-male Terran "near-human" (cyborg), former Interplanetary Patrol officer and commander of a Terran Ranger Corps task force, including the corvette Dauntless
"Cmdr. Tela" [Sara F.]-female Tharian (gargoyle-like alien), escapee from the Encegulans (slug-like slavers), fond of humans; engineer with boyfriend Kedar and robot Dr. Bucket
"Chris McKee /Agent Prometheus" [Josh C.]-male Terran human, former assassin for the eugenicists at Black Box Security Co., sniper and seeker
"Tariq Asrad Saladin" [Beruk A.]-male Terran "near-human" (mutant) wanderer with a past, investigator
"Enkidu Aristheon" [Dexter V.H.]-male Seranen (pale empathic humanoid alien) exile, wilderness survival expert curious about Terrans and the Zarkonian threat; with sphinx-like companion Glaucon
Crew of the refitted space yacht Pina Colada and other ships:
"Capt. Jasmine" [Sara F.]-female Martian Felinoid "Synth" ("Uplifted" tiger), former pit fighter and crewmember of the Appomattox, searching for a homeworld for her people; with boyfriend Darcy
"Hector Chavez" [Beruk A.]-male Terran human, former spy and crewmember on the Appomattox, cautious engineer and communications expert
"Chiron" [Dexter V.H.]-male (secretly android) pilot, assigned to assess and protect humanity
"Orion Starchaser" [Geoff C.]-male Pomuyan (blue telepathic humanoid alien), irrepressible mystic and thrill-seeking galactic hitchhiker; departed for deep space
"Lt.Cmdr. Sebastian Growlick" [Bruce K.]-male Felinoid "Synth" ("Uplifted" lion), elite soldier, killed attacking the Zarkonian Armada with the frigate Crazy Horse
"Cmdr. (Dr.) Srinu Pahul" [Byron V.O.]-male Terran "near-human" (genetically modified) xenobiologist, curious and planetary patriot; with robot

PEPE

and nurse Kala Sunitha Ciela on the frigate Sovereign
"Lt.Cmdr. (Dr.) Billy 'Hawkeye' James" [Bruce K.]-male Terran "near-human" (cyborg technopsi) frontier medic and gambler; traveling with Sovereign as part of the Ilokar battle group escorting a fleet of Terran refugees
See other records for the previous crews of the Blackbird, Appomattox, and Gryphon.
"21 September to 5 October 2195 A.D./C.E. or 1 Terran Galactic Era:" The acting crew members of the Pina Colada had met representatives of Aquarian colonists and moved Ruhema, a Precursor satellite, closer to Van Maanen's Star to recharge. They also debated whether to stay to study the Precursor device or continue exploring.
The rest of the "Terra's Pride" task force arrives, and the command crews of the ships meet to discuss their plans. Capt. Jasmine, Hector Chavez, and Lord Wallace Tubbington III agree to stay with the refitted yacht Pina Colada to study the ancient device and aid resistance to the Zarkonian Imperium.
Dr. Srinu Pahul and Billy "Hawkeye" James say their medical expertise is most needed among the refugees fleeing the Sol system. They prepare to go with the frigate Sovereign and patrol ship Tigress.
Capt. Kevin Reese expresses his desire to continue exploring the galaxy with the Blackbird and corvette Dauntless. Lt.Cmdr. Tela and Lt.Cmdr. Brun Bearhammer want to stay with their scout ship, and Lt. Nathan A. "Jellybean" Jessup hopes to retain his Raptor II-class aerospace fighter.
Kevin orders that the drop ship Dragonfly and ground-effect vehicle Tiger Hawk Sandstorm be kept in the Blackbird 's landing bay, if room can be found for Nate's craft. Chris McKee and Tariq Asrad Saladin note that the Blackbird also offers opportunities for diplomacy and trade.
Orion Starchaser announces his intention to continue wandering, away from the Zarkonian Armada and the Terran fleets. The Aquarians (amphibious humanoids) or other aliens should be able to help the Pomuyan, responds Capt. Reese.
The Blackbird, Dauntless, Sovereign, and Tigress head to Delta Pavonis to rendezvous with the Ilokar battle group. As they emerge from Transit (faster-than-light travel), the ships receive a distress call. Apparently, pursuers have caught up with the human and "Synths" fleeing the Sol system.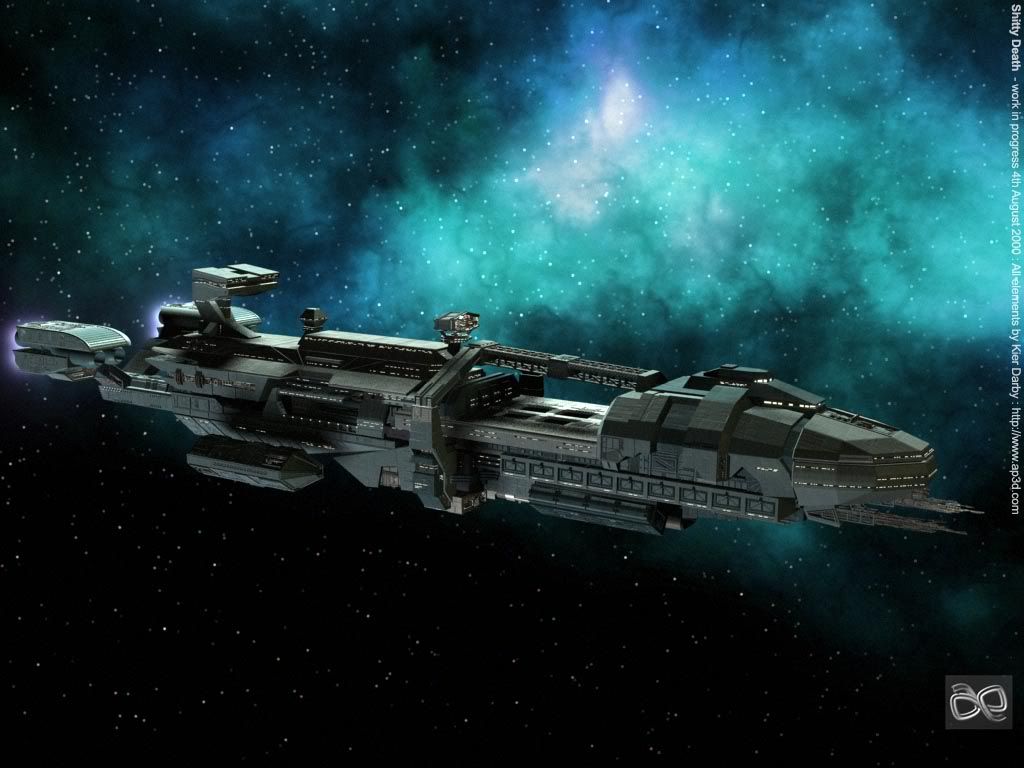 Capt. Reese calls battle stations and has the Blackbird lead a counterattack. Lt.Cmdr. Tela activates the experimental Olvar (arboreal, mammal-like alien) vessel's cloaking device. The Tharian engineer isn't happy to see an Encegulan (slug-like slaver) destroyer.
Lt.Cmdr. Bearhammer deftly pilots the Blackbird into the fray, as a Zarkonian carrier disgorges numerous fighters and Zurmiz Krott (biomechanical probes). Mr. McKee aims beam weapons from his gunner's nest. "Jellybean" climbs into his "Raptor" to join the Ilokar 's squadrons defending about 1,000 civilian vehicles.
Mr. Saladin raises telepathic defenses, as enemy swarms attack the heavy destroyer Ilokar and other military escorts. Kevin boldly orders that a zero-point device be loaded on a torpedo. Chris swiftly destroys one of the gun emplacements guarding a Zarkonian launch bay.
Despite ursine Brun's maneuvering, Tela's EMP (electromagnetic pulse) weapon fails to affect the carrier, which inflicts heavy damage on the Ilokar. The Encegulans fire on the Babieca, and Nate is luckier than one Raptor pilot, who meets a fiery end thanks to Zarkonian lasers.
Former Interplanetary Patrol officer Kevin radios Lt. Clark Faddil aboard the Pinkerton to warn the Terran fleet to move away. Tela resets controls on the Dauntless to enable Blackbird gunner Chris to guide the modified missile.
Space marine Nate leads a Raptor squadron to clear a path for the missile, destroying several fighters. Brun spins the "Blackbird" around to retreat, as Chris sends the zero-point torpedo at the Zarkonian carrier, annihilating it and most of the enemy ships in a massive blast.
After the remaining foes are mopped up, the Ilokar command crew welcomes members of "Terra's Pride" aboard. Adm. Jacques Pons and his first officer Capt. Jamie Jeppsen thank Capt. Reese and company for coming to their rescue.
Tela recognizes Lt. Hedy, a "Synth" (gynoid) engineer whom she helped in making Ceres Station Transit-capable. Dr. Pahul compares scientific notes with Dr. Brett Carson, who took custody of stolen Vatican relics.
Chris catches up with Sgt. Jane Walthrop, a fellow sniper with whom "Agent Prometheus" once served at Fort Olympus Mons in the Mars Confederacy. Brun shares astrogation data with Delphine ("Uplifted" dolphin) Lt.Cmdr. Kanuha.
Capt. Evander Scofield, commander of the Korelev, explains to Kevin that Capt. Karzan Laseme was the leader of the Zarkonians attacking the Ilokar. En. Chewitel Elba, a Felinoid ("Uplifted" panther), tells Tariq that the colony ships Firebrand, Nova Aquarius, and Faithful Starlight should join the refugee fleet soon.
Capt. Reese briefs Adm. Pons on the findings of the expedition to Van Maanen's Star. The admiral approves use of the factory moon to create Transit drives for Aquarian and Terran refugees, as well as to emit an energy-draining field to block the Zarkonian Armada. The Union of Solar Nations officers agree to send the Blackbird back to the Pina Colada with personnel and supplies.
Adm. Pons also promotes members of Kevin's crew, including Jasmine to captain, Tela and Brun to commander, and Nate and Billy to lieutenant commander. Kevin, Srinu, and Wallace retain their existing commissions, and Chris, Orion, Hector, and Tariq remain as civilians.
Capt. Reese requests that the Dauntless join the Blackbird in forward scouting, but Cmdr. Bearhammer and Mr. McKee argue in favor of fewer ships. Adm. Pons initially denies Kevin's request but asks him to stay in charge of the Ranger Corps task force.
Cmdr. Tela helps Cmdr. Samantha Astin with repairs to the Ilokar and other ships. She also requests that boyfriend Kedar be transferred to join her and robot Dr. Bucket on the Blackbird. Cautious Tariq checks security records of the refugee fleet to see if he recognizes anyone.
Chris notes that it has been just over a year since he first met extraterrestrials under attack from Terra Prime terrorists at the Rio de Janeiro "beanstalk" (space elevator). He warns Cmdr. Alfonso Balaz of the Steel Sanguinis to beware of Ru'ulok (heavy gravity reptilian pirates) such as those at Beta Canum Venaticorum.
Dr. Pahul sends robot PEPE to get supplies and takes nurse Kala Sunitha Ciela for a romantic walk in an arboretum on one of the colony vessels. Lt.Cmdr. Jessup informs signal officer Sgt. Amarna Morales that her former assignment, the Manitou, is among the surviving ships.
Nate later joins Brun, Kevin, Chris, and Hawkeye in search of a bar and a card game among the humans fleeing the Zarkonian devastation of Earth….
I hope that everyone enjoyed the "Vortex" space opera, which we've been playing since 2010 (and I've been running on and off for 30 years)! I look forward to someday continuing our adventures, but in the meantime, we'll be working on characters for the "Vanished Lands: A New Dawn" Asian-style fantasy telecom game next Sunday.
Geoff now plans to run his street-level superhero scenario (using FATE Accelerated Edition ) on Oct. 20. I also look forward to seeing some of you at upcoming "Vanished Lands: Vistel's Circus" and Jason E.R.'s "Star Wars: Dark Times" face-to-face sessions. Stay in touch, -Gene