Vortex
Capt. Tzu Tien Lung
Gene D.'s Terran human for Steve M.R.'s "Star Trek: the Tempest" campaign
Description:
Player Character: "Capt. Tzu Tien Lung"
Role-Player: Gene D.
Campaign: "Star Trek: the Tempest"
Game Master: Steve M.R.
Rules systems: Generic Universal Role-Playing System (

GURPS

) 3e Space, D20 Prime Directive, Fantastic Adventures in Tabletop Entertainment (

FATE

)
Date created: 2 September 1994/"Stardate 47060.12 or 1 March 2370 A.D./C.E." (Virginia)
Date revised: 19 January 2014/"Stardate 47108.08 or 2371"
Aspects (can use a Fate point to tag for +1d6 or a reroll, plus compels):
Origin: Terran human
Occupation/level: Starfleet officer (Explorer 11)
Trouble: Hello, ladies!
Guest star: Damn Cardassians…
Personality/motivation: Wants to help United Federation of Planets recover from recent wars and again expand.
Adventuring: Swashbuckler at heart
Reputation: Married to his ship
Attributes (roll 4d6, drop the lowest, reroll 1s; modified by origin, usually +/- 2):
Strength: 12 (+1; x5 = max carry, x10 = max lift)
Dexterity: 12 (+1; x2 = ft. per round; to initiative)
Constitution: 12 (+1)
Intelligence: 13 (+1)
Wisdom: 12 (+1)
Charisma: 14 (+1)
Hit Points: 58 (by occupation, start at max, plus Con bonus, + 1 hit die per every five sessions)
Base Attack Bonus: +11 (total; on 1d20 to hit, + 1 Dex bonus; +1 every five sessions)
Armor Class: 13 (Starfleet uniform plus Dex bonus)
Skills (on 1d20, plus attribute bonus; 10 points to start with, plus 10 levels and one per session = 67 pts.)
Acrobatics (+ 1 Dex/Reflex): 1
Animal Handling (+ 1 Wis): 1, incl. ride
Area Knowledge (+ 1 Int): 4 — 1 pt. @ in Terra/Earth and U.F.P. space, Federation law, history, politics
Athletics (+ 1 Str; climb, fly, jump, lift): 2
Computers (+ 1 Int): 2 — ship systems (Tech Level 13)
Craft (+ 1 Dex/Int): 0
Endurance (+ 1 Con/Fortitude): 1 (carousing)
Engineering (+ 1 Int): 2 — incl. force field operations (TL 12)
Gaming (+ 1 Int): 1
Intimidation (+ 1 Str): 1
Leadership (+ 1 Cha): 5
Linguistics (+ 1 Int): 5 — Cantonese, Cardasian, English/"Galacta," Mandarin (native), Klingon, cryptography, signing
Martial Arts (+ 1 Dex): 6 — 1 pt. @ in archery, fast draw, fencing, Judo, Karate, knife/sword
Mechanics (+ 1 Dex): 1 (

GURPS

Tech Level 11)
Medicine (+ 1 Int/Wis): 1
Mysteries (+ 1 Int/Wis): 0
Perception (+ 1 Wis): 2
Perform (+ 1 Cha): 5 — 1 pt. @ in acting, calligraphy, dancing, painting, literature, musical instrument
Persuasion (+ 1 Cha): 3
Profession (+ 1 Int/Wis): 0
Resolve (+ 1 Wis/Will): 1
Science (+ 1 Int): 8 — 1 pt. @ in anthropology, archaeology, astronomy, biology, chemistry, ecology, geology, planetology, xenology
Search (+ 1 Int): 0
Sleight of Hand (+ 1 Dex): 0
Stealth (+ 1 Dex): 1
Streetwise (+ 1 Cha): 1
Survival (+ 1 Wis): 2, incl.

SCUBA

, tracking, vacc suit
Vehicles (+ 1 Dex): 3 — 2 in astrogation, 1 pt. @ in boating, piloting
Warfare (+ 1 Int): 5 — 1 pt. @ in black powder weapons, demolitions, phasers, starship gunnery, strategy/tactics
Stunts (race/class abilities, skill specializations/feats, spells, signature items, superpowers, etc.; provide citations):
The Artist's Eye (Perform, art appreciation)

FATE

3e Starblazer Adventures (

SBA

)
Best Foot Forward (Persuasion/Rapport) no crit fumbles,

SBA

Capable Researcher (Science) faster inferences,

FATE

Bulldogs
Brawler (Martial Arts) + 1 to AC,

SBA

Cold Read (Perception, faster empathy)

SBA

, Bulldogs
Cool Under Fire (Leadership) + 1 to Perception/Alertness when outnumbered,

SBA

Intergalactic/Starfarer (Persuasion/diplomacy)

SBA

, Bulldogs
Minions (Leadership, crew) Bulldogs
Patron (resources, 2 slots): U.F.P. Starfleet Command
Tracker (Survival) Bulldogs
Refresh (out of initial total of 6 Fate points, can be used to tag an aspect, make a declaration, or activate a stunt): 4
Advancement: 1 skill point per session; +1

BAB

and HD every five sessions; +1 Refresh and +1 Aspect or Attribute every level or 10 sessions
Weapons (by range/reach, damage, qualities):
Ranged (and ammunition):

knife, thrown 1d4
phaser, Type 2 — stun DC 20 or 4d6
Melee (+ 1 Str bonus damage):

knives, survival 2, 1d4
saber, fencing 1d6
sword, Chinese broad 1d8
unarmed (brawling, Judo, Karate) 1d4 plus disarm or grapple
Bio:
Description:
Gender: Male
Date of birth/age: Stardate 36810.15 or 2325 A.D./C.E., 46
Eyes: Dark brown
Hair: Balding, black, in a ponytail
Complexion: Olive
Height: 1.7 meters or 5 ft., 7 in.
Weight: 66 kilograms or 148 lbs.
Appearance/mannerisms: Claims to be descended from pirates. Called "Edmund" by Academy friends. Likes to read old copies of Shakespeare. Enjoys Klingon food. When permitted, wears a ponytail.
Image links:

http://i211.photobucket.com/albums/bb42/GeneD5/Blog%20and%20games%202013%20to%202014/DSCN1977_zps90248ed4.jpg
http://i211.photobucket.com/albums/bb42/GeneD5/Blog%20and%20games%202013%20to%202014/DSCN1976_zps3ae95af4.jpg
Equipment:
Clothing, armor:

boots, riding
civilian clothes/disguises
uniforms — duty, several sets (see Star Trek: First Contact), dress, with rank insignia
vacc suit

Occupational tools:

communicator badge
First Aid kit
Padds
Tricorder
Universal Translator

Rations:

Ship's replicators
Rations, field, 3 days

Other gear:

antique Shakespeare manuscripts
backpack, with camping gear
notebooks and pens
spyglass, brass, with leather case

Transport: see notes for the U.S.S. Tempest, below
Money: 15,000 credits in annual salary/assets?
Bio/background (see also Aspects):
Homeland/nationality: New Shanghai, Terra (Earth, Sol 3)
Religion/alignment: Justice (Lawful Good), duty to United Federation of Planets and ship
Service Record:

Tzu Tien Lung studied at Starfleet Academy in San Francisco from 2342 to 2346.
Ensign aboard the U.S.S. Eagle,

NCC

956, under Capt. [John Z.G.] from 2347-2351.
Made lieutenant at helm of U.S.S. Phoenix,

NCC

65420, under Captain Maxwell from 2352 to 2355.
Was Lieutenant Commander at Tactical/Security on the U.S.S. Excalibur,

NCC

26517, under Capt. ? from 2356 to 2361.
Served during the Cardassian War, from 2355 to 2366.
Promoted to commander and first officer of the U.S.S. Endeavor,

NCC

71805, with then-Capt. Rotha from 2362 to 2369.
Given own command, the starship Tempest,

NCC

2094-B, from March 2370-present.
Stardate 47060.12 to 16: The Tempest visited U.F.P. petitioner Ventax 2 (formerly home of Ardra) to assist the Curie in relieving Rigelian plague with ryetalyn medicine. Encountered Gomtu/"Tin Man" on the way, as well as civil unrest on the planet.
Stardate 47080.20 to 47108.07: Visited First Contact Office on Aquarius 3 in non-aligned space. Rotated crew, avoided Pakleds, solved engineering problems, and ran drills. Encountered Cardassian cruiser in Aquarian system, but they were apparently incapacitated by Romulans. Uncovered smugglers and a Ferengi plot.
Adventuring parties: crew of the U.S.S. Tempest (Virginia, 1994 to 1997):
"Capt. Tzu Tien Lung" [Gene D.]-male Terran human, commander of Excelsior-class ship

NCC

2094-B
"Cmdr. Slasck" [James A.W.]-male Vulcan, first officer, specialist in tactics and sciences, away team leader
"Lt.Cmdr. Mohammed Abil Cousteau" [Chris R.]-male Terran human, tall chief engineer and second officer
"Lt.Cmdr. Agamemnon" [Josh H.]-male Betazed, security chief; took a leave of absence
"Lt.Cmdr. Harley McMasters" [Jack P.M.]-male Terran human from the U.S.S. Bozeman of the 23rd century (present day is 24th), second security/tactical officer
"Dr. Conrad Livingston" [Chris D.C.]-male Terran cyborg, chief medical officer
"Lt. Lionel Joseph" [Tim M.B.]-male Terran human, science officer, with interest in the occult
"Lt. Jeremy Monomuro" [Greg D.C.]-male Lunar human, transporter chief, promoted to assistant engineer
"Lt. Tailkinker Starclaw" [Jon W.P.]-male Caitian, tactical officer
"Lt. Kanor" [John J.G.]-male Klingon, helm officer
"Lt. Smith" [Jon W.P./N.P.C.]-male Terran, security officer
"Lt. Florence Barton" [Nicole T.O.]-female Terran human, medic
"En. A'Roo" [Jodi A.R.]-female Fleegan (trilateral amphibious species), helm officer
"Yeo. Trema Telca" [Janice L.M.]-female Terran human, communications officer; fencing partner of Capt. Tzu
"Ms. Raven Starclaw" [Shelly]-female Caitian, bartender
Non-Player Characters [Steve M.R.]:

Lt. Clara Nightingale: female Terran human, nurse
Lt. Diego Gonzales: male Terran mutant (descendant of "El Fiero" from

GURPS

Supers: "the S.J.I."), pyrokinetic engineer with a mixed service record
Lt. Nargeta: female Horta (mineral species from Janus VI), mission specialist
Lt. Bob Hoover: male Terran human, science division assistant
En. Denise Gilbert: female colonial human, transporter operator
Yeo. Erica Jansen: female Terran human, communications officer and roommate of Trema Telca
Earl Sinclair: male colonial human, non-commissioned officer in maintenance (apologies to Henson's Dinosaurs)
Cmdr. Benjamin Larson: male colonial human, leader at Aquarius 3 First Contact Office (non-Starfleet)
Dr. Allison Kane: female colonial human F.C.O. researcher
Adm. Treve Rotha: male Terran human, Judge Advocate General; responsible for the _Tempest_'s missions
Commodore Erik T. Lutwin: male Terran human, xenology expert and commander at Starbase 51
Decks of the U.S.S. Tempest, NCC 2094-B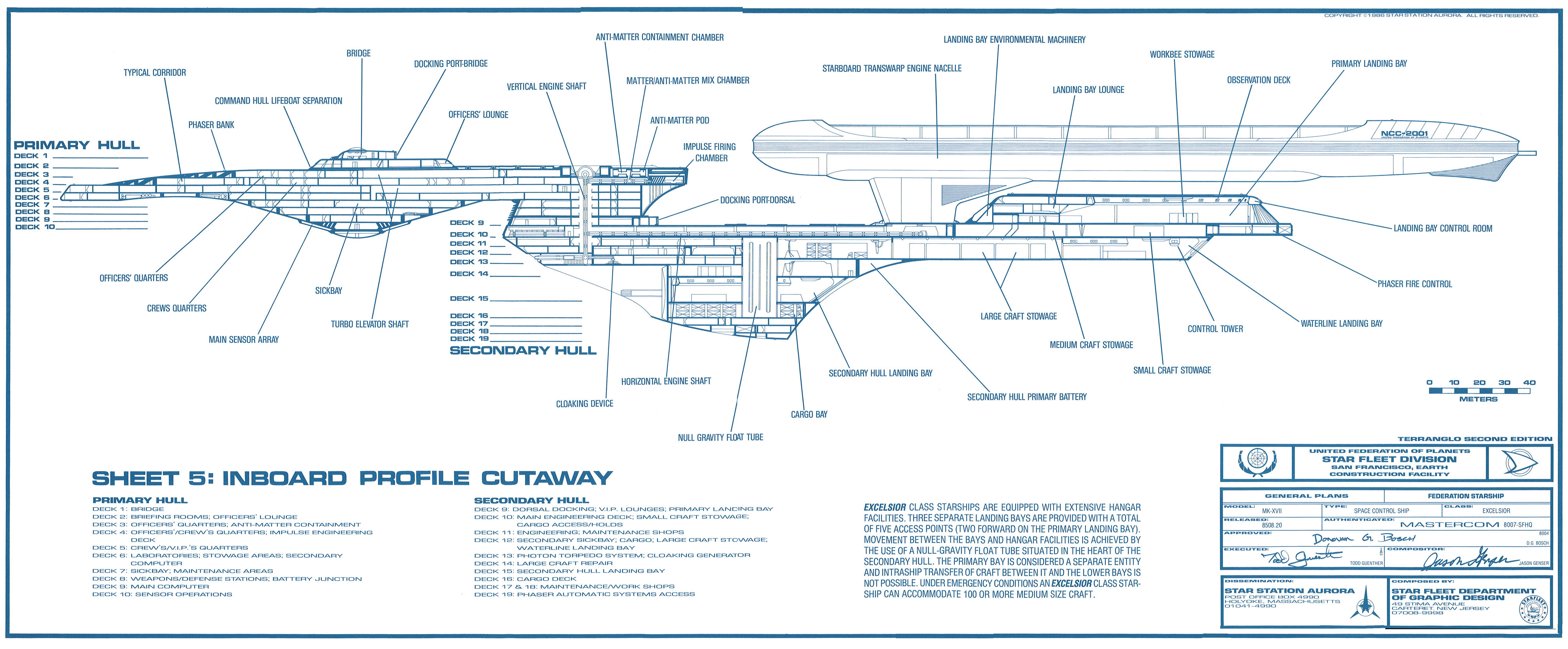 Bridge, main command center
Captain's ready room, conference room
Shuttlebay 1: 1 Type 15, 1 Type 6, 1 Type 7
Impulse Engines, Junior Officers' quarters
Fusion generators, Science laboratories
Transporter room 1, more Science labs
Captain's quarters, residential apartments
Sickbay, Transporter 2, medical laboratories
Food preparation, recreation deck, Holodeck 1
Phaser controls, cargo bay 1, Transporter 3
Maintenance, life support, photon torpedo bay
End of saucer, escape pods, Captain's yacht
Battle Bridge, auxiliary controls
Dorsal interconnects, docking latches
"Raven's Bar," residential apartments
Inertial dampening system, observation deck
Engineering support, Jeffries tubes, turbolifts
Beginning of primary hull, maintenance
Shuttlebay 2: 2 Type 15, 1 Type 6, 1 Type 7, 2 Type 9A (bay is aft, behind pylons)
Shuttlecraft support, Transporters 4, 5
Cargo bays 2-4, Transporters 6-8
Main Engineering
Engineering and environmental support
Deuterium fuel storage, pumps, and fill ports
Auxiliary power, distribution subsystems
Living quarters, Holodecks 2-5
Living quarters, botanical garden, brig
Environmental and life support
Main sensor array, navigational deflector
Antimatter storage pods, tractor beam emitter
"These are the voyages of the Starship Tempest. Our mission: to explore the tempestuous and stark cosmos, defend the Federation, and uphold the honor of Starfleet. To bravely travel to new worlds and meet such people as we find on them."
http://static3.wikia.nocookie.net/__cb20090908061504/sgvst/images/7/7a/ExcelRefit2.jpg